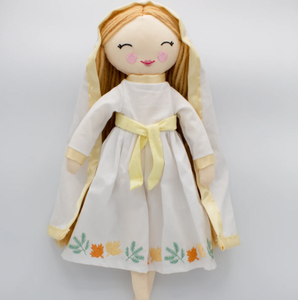 Product Description
The first approved Marian apparition in the United States is Our Lady of Good Help, also dedicated as Our Lady of Champion.
This beautiful doll is depicted as she appeared to Adele Brise in Wisconsin in 1859. Adele saw Mary standing between two trees, a hemlock and a maple (which we have embroidered on the hem of her skirt!). She described Mary as dressed in white with a yellow sash, with flowing blonde hair, and surrounded by a dazzling light.
When Adele asked the woman who she was, Mary replied, "I am the Queen of Heaven, who prays for the conversion of sinners, and I wish you to do the same. Gather the children in this wild country and teach them what they should know for salvation."
Each doll is hand-sewn and finished with lovely embroidery.
Doll is 12" tall. Cotton and satin trim, all new polyester fill.