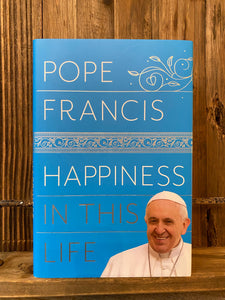 ABOUT POPE FRANCIS
Pope Francis Jorge Mario Bergoglio was born in Buenos Aires on December 17, 1936. On March 13, 2013, he became the Bishop of Rome and the 266th Pope of the Catholic Church.
A collection of homilies, speeches, and "messages of the day" that brings together Pope Francis's wisdom on finding happiness in the here and now
 
For Pope Francis, the appreciation of our everyday lives is a spiritual undertaking. Joy is a divine attribute, and creating joy around us an essential part of faith. Every homily and speech in this book delivers, in warm, engaging language accessible to believers and nonbelievers alike, a key lesson, instructing readers on finding love and happiness in a chaotic world.
Hardcover * 272 pages